Hydroponic Lettuce Nutrients
Urban Hydroponic
Hydroponic Lettuce Fertilizer
24-15-36
When it comes to eating healthy, one of things people often think about is eating more salads. Interest in growing hydroponic lettuce has boomed these past few years among home gardeners. Part of the reason for this is a gentleman named B. A. Kratky. Mr. Kratky has developed a very simple method of hydroponic gardening that is suitable for vegetables that don't take long amounts of time to grow.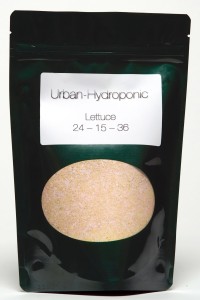 The Urban Hydroponic Lettuce Fertilizer featured here is perfect for the hydroponic lettuce production using Mr. Kratky's method. It is pre-mixed with everything you need to get outstanding results. All you need is good clean water and you have all the hydroponic nutrients you need to feed your lettuce plants to their maturity.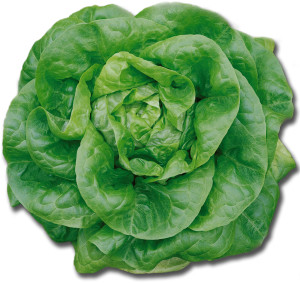 Now, this method is not appropriate for every type of plant. The Kratky method is perfect for growing hydroponic lettuce, where it would not work well for things like tomatoes. It wasn't until a man on YouTube named MHPGardener demonstrated how easy it was to build one of these hydroponic systems did I take notice. The beauty of this hydroponic system of growing lettuce is that it does not require any electricity, pumps or advanced technology.
What it does require is a quality hydroponic lettuce nutrient formula, container to hold water and net cups. MHPGardener demonstrated in several trials that he could consistently get amazing results growing hydroponic lettuce time and time again by using the Kratky method.
He used a nutrient formula that he mixed himself, by starting with a fertilizer called Master Blend. To that he added Calcium Nitrate and Epsom Salt.  Many of these things are hard to find for some folks. This Urban Hydroponic Lettuce Fertilizer is very similar to that formula, with the exception that it is all pre-mixed for you!
So, you don't have to go through the trouble of hunting down the individual components, weighing and mixing them. In fact, we have grown hydroponic lettuce with both the Master Blend based mixture as MHPGardener demonstrated and the Urban Hydroponic Lettuce Fertilizer in a side by side comparison and have gotten the same results.
If you want more information on the Kratky Method of growing hydroponic lettuce, you can read a paper that Mr. Kratky wrote for the Cooperative Extension Service of the College of Tropical Agriculture for the University of Hawai here. In addition, you would be doing yourself a favor by checking out MHPGardener's YouTube channel.