Hydroponic Tomato Fertilizer – 20-18-38
Urban Hydroponic
Hydroponic Tomato Fertilizer
20-18-38
Did you know that Tomatoes are the number one plant that home gardeners grow in their in the ground gardens?  Just like growing tomatoes in soil, there are specific nutrients that are needed when growing tomatoes hydroponically.  This Hydroponic Tomato Fertilizer is a professional blend of nutrients that's optimized for explosive tomato production.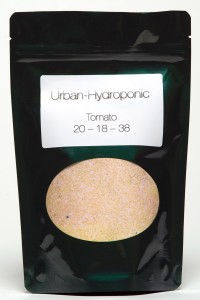 You will be growing bushels of mouthwatering and juicy tomatoes with these amazing nutrients.  And it works wonderfully regardless of which hydroponic system you are using.
This Hydroponic Tomato Fertilizer is rated at 20 N -18 P – 38 K and it comes in a  2 lb. bag.  That is enough to make a whopping will make approximately 160 gallons of nutrient solution!
There are people who mix a fertilizer called Master Blend, Calcium Nitrate and Magnesium Sulfate ( which is standard Epsom Salts ) together to achieve this ratio.  This Hydroponic Tomato Fertilizer already contains the Calcium Nitrate and Magnesium Sulfate mixed in already at the correct ratios.  So, there's no muss, no fuss with this bag of premium hydroponic nutrients.
Professional gardeners trust this blend of nutrients for their lively hood, but they mix it themselves in large quantities!   Now you can have the same hydroponic tomato fertilizer that they do, in one expertly mixed small package.   All you need to do is add clean water!
Urban Hydroponics has made it easy for those who are just getting started with hydroponics on a small scale at a very economical price.  You can also use this Hydroponic Tomato Fertilizer for other plants, like eggplant, peppers, squash, cucumbers in hydroponic gardens or in the soil!
If you are looking for an outstanding hydroponic lettuce formula, look here for the Urban Hydroponic Lettuce Fertilizer.