UFO LED Grow Light 90 Watt
UFO LED Grow Light
90 Watts – Red – Blue – Orange
by TaoTronics
If you are looking for an absolutely amazing LED plant light, then the TaoTronics UFO LED Grow Light is your choice! This UFO LED grow light incorporates 45 ultra bright LEDS in a 7(RED):1(BLUE):1(ORANGE) ratio.   This ratio of colors provides the optimum spectrum of light that your plants will love.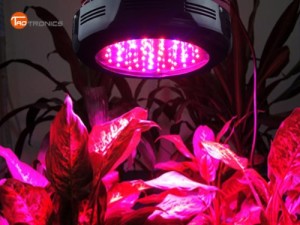 Weighting only about 5 lbs, this LED plant light saves up to 80% on electricity when compared to HPS or Metal Halide grow lights.  The three band red-blue-orange LEDs produce the equivalent of useable light output to your plants as a 400 watt HPS grow light system!
Your plants will enjoy fast growth and have lush green foliage.  In addition, your plants will thrive with increased buds, flowers and huge blooms.   This UFO LED Grow Light is ideal for all stages of plant growth, too!  From seed to flower and finally to fruit, you will have amazing results with this high quality and ultra rugged plant light.
You can grow any of your plants using this grow light fixture, including: tomatoes, basil, lettuce, roses, peppers, orchids, cucumbers, herbs, spinach, kale, wheat grass, broccoli and many other types of veggies.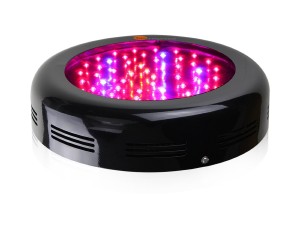 These grow light panels give off very little heat.   That is huge plus, because they can be placed in tight spaces without worrying about heat build up.   This makes them ideal for cloning plants and seedling lights.
UFO LED Grow Lights are suitable for all stages of plant growth, from seeds to full maturity. The light frequencies that are emitted can accelerate plant growth, budding,  flowering and fruiting.
One of the great features of this UFO LED Grow Light is that it incorporates three fans in its design that keep it cool.   It is ultra rugged and built to last, providing years of faithful service.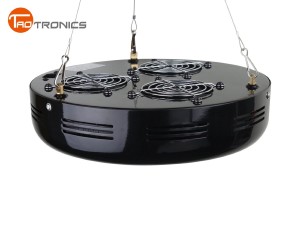 The lighting fixture is able to be hung at the perfect height for your plants.   It comes complete with the cables needed to suspend it from three places.
You can also see the three fans used for cooling the UFO LED Grow Light that provide exhaust from the back end of the unit as it is suspended.  This directs heat away from the plants as they grow underneath it.
At the price this is being offered, it is an amazing value and a green solution with its energy saving features.