Miracle Gro AeroGarden Herb Garden 3 and 7 Pod Systems
AeroGarden Indoor Herb Garden
Have you ever wanted to grow fresh herbs all year long in your home?  Now you can with this space aged Miracle Gro AeroGarden System.    The AeroGarden is an awesome indoor garden that is compact and all inclusive.   It is a small and compact hydroponic system that enables you to grow herbs, salad greens, tomatoes, flowers and other plants all year long!
Miracle Gro AeroGarden
3 Pod (Smaller Unit)
Miracle Gro AeroGarden
7 Pod (Larger Unit)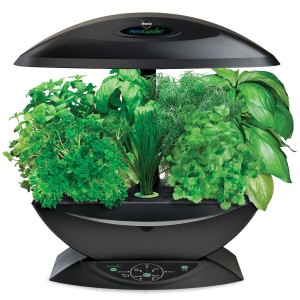 The Miracle Gro AeroGarden comes in both 3 pod and 7 pod versions.  Every thing is accounted for in the design of these hydroponic systems, including two energy efficient grow lights that will provide the right light that your plants will love all year long.
With this hydroponic system, you will be amazed how much quicker your fresh herbs will grow.  The best part is that your plants will be so clean, since the system uses soil free pods.
The grow light on top of the unit is adjustable so that you can set it at optimum height for your plants.  This is a very nice feature, as if the lights are too far away from the plants, they become leggy and they do not thrive.    Being able to adjust the lighting distance to its optimum placement is essential to the development of healthy plants.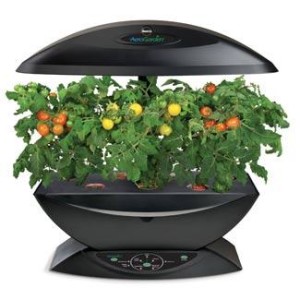 While herbs are the most common things that people grow in these units, you can grow other things, such as these cherry tomatoes!   Imagine being to harvest delicious cherry tomatoes all year long fresh off the vine to put in your salad!    These indoor hydroponic systems are truly amazing.
At about 20″ by 12″, these compact hydroponic gardens are so much fun and they excellent for teaching children how to care for plants.     Everything is foolproof with this system, so even if you have a brown thumb, you are sure to be successful in your gardening adventure.
Don't be fooled by the small size of the Miracle Gro AeroGarden. I have read that it is estimated that the 7-Pod unit can produce an amazing $150 worth of fresh Basil  in four months, based on the price of Basil at the store.   But that is not a true comparison because your basil will be fresh.  Who knows how long the basil at the store has been sitting on the shelf.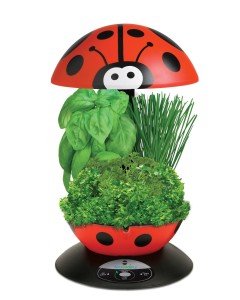 The 3-Pod Miracle Gro AeroGarden is nice and compact, too.   In fact, you may find it fits perfectly in your kitchen.   It comes in various colors, patterns and even in this cute ladybug style.
Even in the 3-Pod model, this tiny system produces an impressive herb harvest.   Imagine growing fresh basil, cilantro, thyme, dill and mint.   Even the smallest households can find the room for this small hydroponic garden.
Miracle Gro AeroGarden
3 Pod (Smaller Unit)
Miracle Gro AeroGarden
7 Pod (Larger Unit)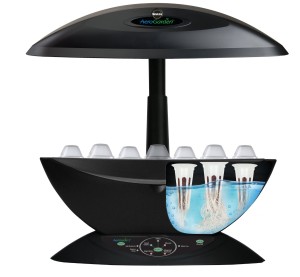 It is so easy to plant in the Miracle Gro AeroGarden.  All you need to do is drop pre-seeded pods into the hydroponic system.  Then, you would add water and the included nutrients to the reservoir.  After doing that, plug it in and turn it on.
After a few days, your seed will sprout and you will be on your way to a culinary delight!
Now if you want to plant your own seeds, you can buy a Grow Anything Kit, where you can easily plant which ever seeds you desire and grow them in your garden.  The Grow Anything Kits come with everything you need, except the seeds, for one season of growing.
The Miracle Gro Aerogarden is a wonderful hydroponic system that is easy to set up and use, maintain and it is sure to provide you with many successful growing seasons of  herbs, lettuce, tomatoes of just about anything you would want to grow.