Hydro Grow Room Complete With Emily's Garden
Complete Hydroponic System
The Hydro Grow Room
Are you looking for an all inclusive indoor garden grow room that doesn't take a lot of space?
The Hydro Grow Room Complete is your answer!  Measuring only 2′ x 2′ x 4′, this compact system is a hydroponic gardener's dream!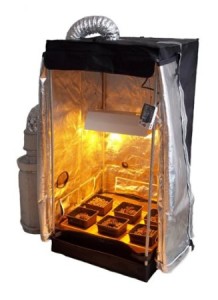 The Hydro Grow Room Tent with Emily's Garden complete system is a top shelf product ! It is the best in indoor gardening in a tight space! The tent is light blocking on the outside and reflective on the inside, to maximize your control of lighting on your plants.
This turn key systems comes ready to grow today with:
2′ x 2′ x 4′ Tent
Multi-Pin timer
An adjustable light hanger
Emily's Garden hydroponic system
4″ Carbon Filter
Digital Thermometer/Hygrometer
a 150 watt HPS Light System
4″ non-insulated ducting
A TD-100 fan.
The only things you will need to get started growing is:
Growing Media, such as Hydroton.
… and your plants!
Included with this system is Emily's Garden Hydroponic System, made by HydroFarm.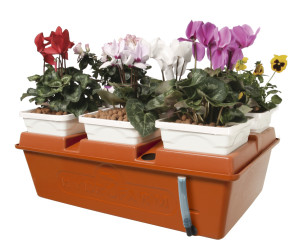 Emily's Garden Hydroponic System is a 16″ x 24″ x 6″ garden that includes 6 individual planters.  This system allows you to rotate or add new plants as you would like to.
Emily's Garden Hydroponic System Includes:

• 2 Gallon Reservoir
• Air Pump & Tubing
• Seed Starter Cubes
• Nutrient pH Test Kit
•  Six 6″ x 6″ x 7″ Planters
• Formed Cover
• Water level indicator
• Illustrated Instructions
With the Emily's Garden Hydroponic System that is included in the Hydro Grow Room Complete, you will be growing quality plants in no time!   With a compact 2 foot square foot print and only 4 feet high, you can easily grow six plants that will thrive!