DWC Hydroponic System Bucket
DWC Hydroponic System
Bucket Kits
by PowerGrow
Are you looking to give deep water culture hydroponics a try on a small scale and at a nice price?   PowerGrow's complete DWC Hydroponic System makes it easy a to grow in a single deep water culture hydroponic bucket system!   We love both these 6″ and 10″ DWC hydroponic systems and you can choose which one best suits your needs.
DWC Hydroponic System Bucket Kit – What is included?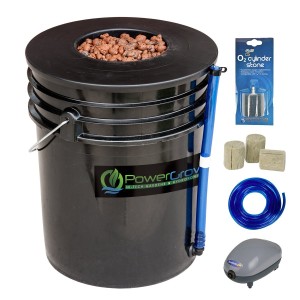 Each DWC Hydroponic System bucket kit comes with everything needed to make a single Deep Water Culture Bucket system, including:
A 5 Gallon FDA Approved Food Grade Bucket
Either a 6″ or 10″ Net Pot Lid, dependent on the system you are buying
An Air Pump rated at 29 GPH
Plastic Air Tubing
A 2″ Cylinder Air Stone
3 Rockwool Starter Plugs
Growstones Growing Medium
Complete Instructions
1 Year Warranted by PowerGrow.
This amazing PowerGrow DWC Hydroponic System Bucket Kit is so easy to setup and use. With very little effort, you to get up and growing in no time.  All you need to add to this system is your plant, water and hydroponic nutrients.  Everything else is included to start growing with amazing results.
How do DWC Hydroponic Systems work?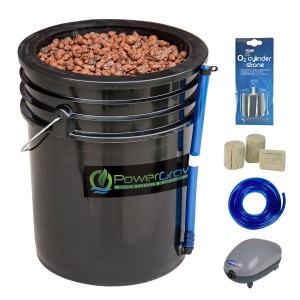 In deep water culture, the oxygen and nutrient rich water solution helps build healthy root systems in all plants.  You see, an air pump that is similar to one found in fish tanks forces air into the water, enriching it with oxygen.  The roots of the plants love the oxygenated water and the results are dramatic!
Your plants will explode with vibrancy  In fact, they will grow much faster and more efficiently than if your plants were growing in the soil!
These deep water culture hydroponic system will provide you with outstanding results for years to come.  You will be amazed by the superior plant growth and production that these DWC hydroponic systems can provide.
PowerGrow is a great manufacturer that stands by their awesome products with a solid 1 year Manufacturers USA warranty.  So what are you waiting for? Get growing with a PowerGrow DWC Deep Water Culture Hydroponic Bucket Kit today!